Depend is among the top brands in absorbent undergarments and adult diapers. They offer excellent diapers for men and women seeking maximum comfort and mobility for their everyday activities.  
The undergarment is made of cotton-like material that is soft yet durable. Additionally, it has a breathable material that makes it ideal for daytime wearing and a stretch waistband that ensures the fit is secure.  
The Depend underwear for men and women is made for heavy incontinence. The women's undergarment comes in two sizes that range from small/medium to large/x-large. It offers a size range of 28-52 inches in waist sizes. Women with moderate to heavy incontinence will find the product reliable and functional. It is made of a smooth fabric that is sleek, feminine, and discreet under your clothing.  
On the other hand, the Depend men's underwear has a waist range that accommodates men of 28-50 inches. It is highly suitable for heavy incontinence. An average adult releases 8-12 fl ounces every visit to the bathroom. The Depend underwear for men easily handles that capacity without any leaks. This piece examines the maximum capacity of urine the Depend products can hold, among its other features.  
Depend Diaper for Bedwetting and Daily Wear
Among the Depends products is the adult diaper with tabs. The diaper offers considerable absorbency and has top-tier leak guards and efficient plastic backing. Its structure holds well during the day and at night.  
However, the diaper has proven more efficient for daytime usage. You might have to change it after a leak during the night since it might not be sufficient to handle multiple wettings.  
The Depend diaper is a good option if you seek an affordable alternative that fits your needs. The price does not come with concessions; you will still enjoy many favorable benefits. Some advantages of using the Depend diaper include durability, discreetness, and fit.  
The diaper has a relatively slow absorption rate and capacity. Therefore, it would be best suited for persons with urge incontinence or a low dribble. Also, you cannot remove it without tearing the backing after applying it.  
The diaper has notable attributes that might give higher-end diapers a run for their money. For instance, the dual waistbands and leg gathers are of top quality and offer high convenience. The diaper might have used a cloth backing with two tapes but has since returned to plastic backing. So, if you have stopped using the product, it is high time you give it another try, and you will not be disappointed.  
Depend Silhouette Pull-Up Underwear, Maximum
The Depend Silhouette Pull-Up Underwear, Maximum for ladies, is what you need if you seek an underwear-style adult incontinence product that will offer you high security. 
The product is made to be a companion as you take on your daily activities. It provides tailored snug leg elastics that ensure no leakage and you remain comfortable. The pull-up underwear comes with a material that is cloth-like, soft, and comfortable for your all-day wear. The design is discreet, and you will not have to deal with the bulkiness of traditional pull-ups.  
Silhouette Pull-Up provides absorbent underwear qualities and trusted protection. It locks away odors and wetness to protect you from leaks the whole day. It comes in three sizes and a different feminine color you will find attractive.  
You cannot run short of reasons to buy underwear. Below are some of the notable benefits: 
It offers the smoothest and softest fabric and stays sleek under your garments of any material, ensuring you have the desired discretion. 

 

Flexes with your moves as you go on with your daily activities

 

The material is soft to the touch and stays comfortable for the whole day

 

The product is disposable and handles up to heavy incontinence

 
Depend Real-Fit Pull-Up Underwear for Men, Maximum
Depend Real-Fit for men is designed to handle moderate to heavy continence. The pull-ups are made for the active day, and they move and flex with you while on the go. They come with a snug, tailored elastics that ensure no leakage and that you remain comfortable. 
Moreover, the material is soft and will give you maximum comfort the whole day. That's not all. The Depend Real-Fit Pull-Up is lotion-free, latex-free, and fragrance-free.  
The current premium masculine improves quality and better feel than the previous briefs. The fabric stretches when you move, and you will get a secure fit from the elastic waistband. You will also get color options depending on your preference. This product is nothing like the typical adult diapers.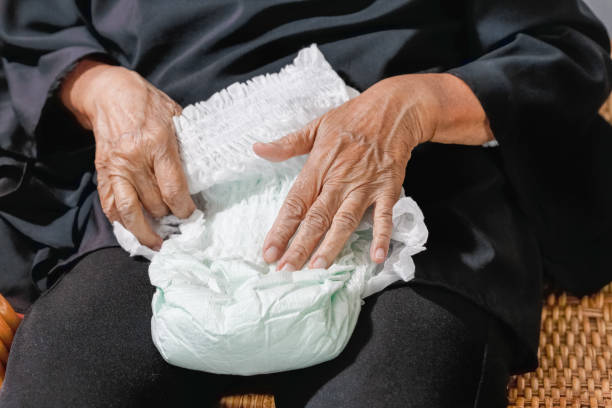 Wrapping Up
Depend brand has dedicated time and effort to ensure that you get the best adult diapers and undergarments for men and women. The products are affordable while not compromising the comfort and safety of the wearer. You can also use the Depend products for your day or night activities.  
Whether you want to choose a diaper or an undergarment Depend is your solution. It is a good idea to try different Depend diapers for the correct absorbency and the right size. You can also compare to the other incontinence products to ensure you settle for the right product for your needs.